Information: Traditional Afghan Instruments
---
Traditional Afghan Instruments
Over the centuries, Afghan music developed. More instruments are used from abroad while the only Afghan instrument is the "Rubab" which is in use nowadays.
This is a list with often used instruments in Afghanistan with some description.
Famous (traditional) non-electric Instruments being used in Afghanistan:
Harmonium
The Harmonium, (or "harmonia") is originally from India. This instrument is a lot used as "sur" for the voice. As well as Ghazal Classic, traditional music, Khawali (Qawali) etc.
The construction: Blowing air into the holes will produce sound. By using the Keys, you will produce different sounds.
This is traditionally used in combination with the Tabla.
Rubab
Rubab (or "rabab") is the Afghan instrument which is using for Classical, Ghazal and Folklore music. This instrument is invented by Afghans and it sounds like a guitar. This instrument is also comment in India.
The strings can be adjusted to produce very high pitches.
Tabla
Tabla is an Indian rhythm instrument. Or also known as the "laya".
This instrument is perfect in combination with the Harmonium. A lot of afghans have this combination for making music at home. The Tabla is basicly a drum (hole with a goatskin). The pitch of the Tabla can be changed by hitting the wooden sticks.
Sarangi
Sarangi, This instrument is basicly used for Indian (or Afghan) classical music. This Asian violin is an important completion for attaching the music.
Sitar
Sitar, an Indian instrument with a very characteristic sound.
It has 4 melody strings and two rhythm strings (chikari), but also twelve to fourteen resonance strings.(Taraf).
These are tuned in on the scale of the raga.
Dhol
(also known as "duhul") This instrument is dated from the 15th century.
This is used for the fast Punjab music and is known in whole Asia.
One side gives a very low pitch and the other a high pitch.
Dholak
This is a Pakistani drum. Very often used for high speed music, party music and Kawali (Qawali).
This is very similar to the Punjabi Dhol.
Zehrbaghali
The traditional Zehrbaghali (or Zeerbagali) has been in use for traditional Afghan music. In combination with an Harmonium and a Rubab.
Tula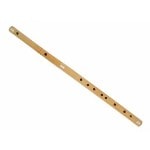 Tula .. or Flute. Blowing air and using your fingers will make you hear a beautiful sound.
Daira
This percussion instrument can be played without having a lot of skill. And is also used by the regular people in Persia.
Tanboor
This instrument dates from 1500 B.C and was invented in Iran.
Old Persian instrument.
Violin
Although this instrument is not from Asia.. It is very often used in Ghazals, and classical music in Afghanistan.